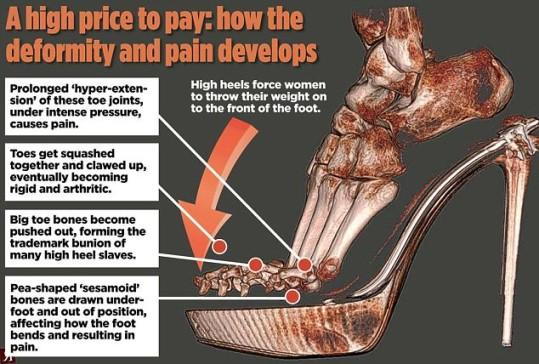 High heels are fashionable and can appear to be a requirement for ladies, but they also can have a negative effect on your feet. According to new 3D scans which are beginning to be available to the field of podiatry, the method in which the foot is positioned when placed in a high heel can cause complications.
According to Andy Goldberg, consultant orthopedic surgeon, by wearing high heels, all of your body mass gets applied to your toes, which can cause inflammation. It is recommended you limit time in high heels and alternate shoes throughout the day.
Wearing high heels can cause risks to your feet. If you are suffering from foot pain due to excessive use of high heels, you can seek the help of a podiatrist like Dr. Bryant Tarr of Sudbury & Westford Podiatry. Dr. Tarr can help you with all your questions and foot care needs.
Effect of High-Heels on the Feet
Women have been wearing various kinds of high-heels for hundreds of years, mostly for aesthetic reasons. Shoes with heels make their wearer appear to be taller and to have longer and thinner legs, and change the wearer's gait and posture. High-heels' association with femininity have kept them popular over the years, but there are definite health problems caused by wearing high-heels too frequently.
High heels also limit the motion of the ankle joints as well when they are worn. The ankle is a very important joint in the body when it comes to walking. These joints have a great deal of weight put on them because of their location. This is why it is so important to keep them as healthy as possible. The main tendon in the ankle is the Achilles tendon. Studies have shown that wearing high heels often causes the calf muscle and Achilles tendon to shorten, and stiffens the Achilles tendon as well, which can cause problems when shoes without heels are worn.
By forcing the toes into a small toe box, and putting a great deal of pressure on the ball of the foot, high-heels can cause or worsen many foot problems, such as corns, hammertoe, bunions, Morton's neuroma and plantar fasciitis. 
Learn more about high heels on the feet, by following link below.
If you have any questions, please feel free to contact one of our offices in Sudbury and Westford, MA. We offer the newest diagnostic and treatment technologies for all your foot care needs.
Read more about High Heels.